Disney always manages to bring the magic.  Even to a classic film re-released in 3D, like Beauty and the Beast 3D.
 I was invited to preview the film prior to it's release on Friday, January 13th.  Naturally, I took my daughter.  One of the perks of having 4 kids, is that one of them is a girl, and I get to engage in the ultimate girly-girl things, Disney Princesses being one of them.
As I mentioned before, Belle and Rapunzel are two of my daughter's (and mine favorite Disney Princesses.  We were in luck because prior to the film, Disney released a Tangled short called, "The Pursuit," a little ditty about Rapunzel and Flynn Ryder's wedding day.  I have to admit, my expectations around the 3D premiere were a bit low.  After seeing the Lion King in 3D, I wasn't overly impressed with the dimensional addition to the film.  It was great to see the movie again, but I felt a little disappointed in that the 3D version didn't really captivate me the way I thought it would.  Again, Disney did not disappoint with Beauty and the Beast.
My kids are generally pretty patient, they even offer me ideas, stories, pictures and videos with my blogging adventures.  Always stopping to pose when asked, or before digging into some delectable delight.  But, this time, my daughter was very annoyed with me once we sat down, announcing loud and clear that there was to be, "…absolutely no use of phones or cameras inside the theater."  She let me take a quick shot of her with her 3D glasses on and in front of the movie promotional cut-out of Belle and the Beast, but that was it.  She's such a little rules follower (wonder where she gets that from).  You will understand why this is important in a bit.
The Movie: This was the perfect film for Disney to release in 3D.  From the introduction of the Storybook drawings to the snow falling and the culinary cabaret of, "Be Our Guest," my eyes were fixated on the screen.  The details were quite impressive.  I'm not sure how many times I have seen the movie before, but the 3D version was crisp and allowed for more attention to the minute details that were most likely missed on the VHS or DVD viewings several years ago.  For example, the red carpet rolled out on the grand staircase of the castle…the edges were worn just in the right spots as if they had some daily wear and tear from traffic walking up and down the stairs.  It reminded me of being in one of the castles in France where you could actually witness the fading a bit from Regals rubbing their robes as they ascened and descened the stair case.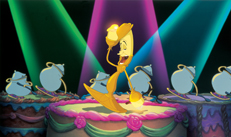 The audience seemed quite engrossed in the film as well, as we all did our best not to sing along out loud.  On a side note, Disney should seriously consider adding the Sing-Along bouncy ball to these movies they are re-releasing, as I found in both Lion King and Beauty and the Beast 3D , the audience wanted to be apart of the magic.  Everyone wanted to sing!  We were all laughing at the missed adult humor from our youth…we get it now…and clapping at the heroic saves by the Beast.  I forgot how charming this enchanted castle and its residents were.  I forgot about how intricate the details of a candelabra servant, tea pot kitchen maid and a pendulum clock butler, when transformed, are so similar to their previous characters.  I also forgot how clever the writing was, and how strong of a female, Belle, really is, being able to recognize that love isn't found on the outside, it comes from the inside.  I'm not sure what all the fuss is about with the Disney Princesses, but I have to say, watching this again, with my daughter, reaffirmed to me, that if she wanted to grow up to be like Belle, I would not feel like a failure as a parent.  She loves books, loves to use her imagination, stands up for what she believes, is selfless and falls in love with someone unconditionally because of who he was a person, not because she knew he was a handsome prince.
I must be getting old because I was fighting back tears as I was holding my daughter in my lap, thinking about the first time I saw Beauty and the Beast.  I was a teen-ager, I'm pretty certain, but it still felt a bit surreal that I was sharing this movie with her.  Belle is a princess she grew to love on her own.  I never told her who my favorite princesses were when she would ask because I wanted her to form her own opinions.  Sounds silly, I know, but I try to teach my children to think for themselves, and not to like things because I do (or someone else does for that matter).  She naturally was drawn to Belle, so much that, I'm not kidding, we had everything Belle.  Pajamas, toothbrushes, hairbows, underwear, Belle baby, Belle barbie, and costumes.  When I took her to the Bippity-Boppity Boutique at Disneyland, she wanted to be transformed into Belle.  Then we went through the Princess Fantasy Fair, where, surprise! Belle was one of the featured princesses, and she got to take her photo with her.  Now, here's where Disney really brings on the magic.  A few minutes before the movie was over, my daughter turns around and whispers to me, "Mom, the girl who's voice is Belle is sitting right behind you."  The theater had ran out of 3D glasses when we were walking in, so I put my daughter in a seat, ran back to the front to get the glasses and came back.  In the meantime, they had announced that Paige O'Hara, the voice of Belle, was in attendance.  She was sitting right behind us.  Since I didn't hear this, my natural instinct was that my daughter was confused, so I just nodded my head.  But as the credit rolled, and Ms. O'Hara's name came across the screen, the audience started clapping.  This was truly the coup de grace for my daughter…at least, so I thought…she got to dress like Belle, have her photo taken with Belle at Disneyland, and now, here she is sitting in the theater in front of her real-life princess.  I was able to turn around and tell Ms. O'Hara, who was very gracious, that it was such a pleasure to meet her, and that Belle was one of mine and my daughter's favorite Princesses.  As I was saying this I got all choked up.  What is wrong with me?!?!  She shook mine and my daughter's hands, then as I was reaching for my camera, my daughter yells out, "Mom, absolutely no photos!"  So, I blew it.  I missed my chance to get my daughter's photo with her favorite princess.  I was so bummed.  We got to the valet, and I said to her, "I cant believe you wouldn't let me take a photo of you and Belle.  I'm so sad about that."  She said to me, "Mom, it's not like she was the real princess.  She's just her voice."  Sigh. It was still quite magical to me, and made the whole event even that more special.
I would highly recommend taking the little girl in your life (even if it's you!) to see Disney's Beauty and the Beast in 3D.  Quite honestly, it's one of the better films I've seen all year!
I was given two complimentary tickets to review the movie Beauty and the Beast in 3D.  All thoughts and words are 100% my own.