I don't usually do movie reviews on my site, but I have to tell you all how much my kids and I loved Disney's Wreck It Ralph.
Since my daughter and I attended the D23 Studio Presentation last summer, we have been anxiously awaiting the opening of this film. And, seeing how my son is addicted to video games, we both had a feeling he would be, too. Since the previews started a few months ago, it's all I've been hearing about when it comes to which movies we will be seeing. It was well worth the wait. My daughter was at the edge of her seat, laughing, clapping and holding on to me during some of the suspenseful parts. At the end, she cheered and exclaimed, "I LOVED this movie! That was AWESOME!". I have to admit, it was quite humorous to have my kids ask who Q-bert was, and I loved the references of the 1980's video gaming technology vs today's high-tech, high-definition, virtual reality experiences. The movie was well written- clever, witty and heartfelt. Most importantly, the characters were voiced totally appropriately. I cannot imagine a better Wreck It Ralph than John C. Riley- he played the part perfectly. Jane Lynch, Sarah Silverman and Jack Mc Brayer got all their parts right as well. It was a perfect combination of sassy, sweet and shilvery from three different worlds colliding into one.
At the end of the screening, the publicists asked the kids what they thought. My daughter planned her words out carefully before we left the theater, "Awesome, Heartbreaking and Friendship." I would have to agree!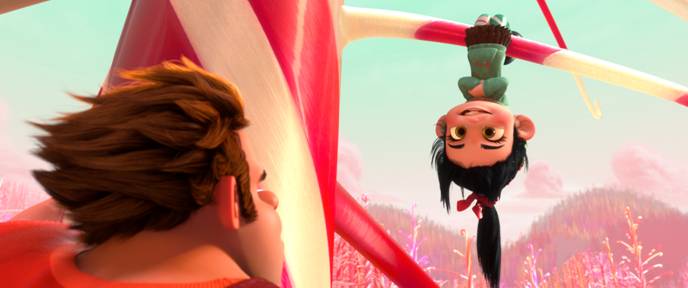 RSMLV Tips:
See it in 3D…We had the opportunity to see a screening of the film in 3D, which I would highly recommend. Again, I don't usually encourage 3D films because they are pricey and I don't always "get" the benefit. This time, however, I noticed the difference. Because the film is based inside the world of video games, the 3D element allows you to see the tiniest details such as they way the Fix It Felix, Jr. characters move vs. the way the newer video game characters, like Sergeant Calhoun and Venellope Von Schweetz do.
Fright Factor…Without a spoiler alert, just be advised that there are a few parts towards the end that could be a bit scary for the little guys. I noticed, but didn't bring it to their attention. Later that evening, my 8 year old said he was afraid to walk into my kitchen in the dark because of a character at the end of the film.
Emotional…Though I was impressed with the story line, it really is full of emotion and suspense. Which I thought was great for the age my kids are, 8 and 6, because it forced them to think about feelings and actions and how it affects others. There were a few scenes that were "edge of your seat", especially if you are 6, but nothing that would create nightmares.
Overall, I would highly recommend Wreck It Ralph as a great family flick for all ages. Go see it this weekend with yours!