Last year my husband was given a set of really cool headphones, like the stylish, DJ looking ones. He sports those puppies every time we get on a flight, rocking out a bit to his music, ignoring the rest of the world…or at least ignoring his four children while I looked on envious of such assistance to block out the noise. Other times, he would grab his iPad and headphones and hop in bed to catch up on his shows while I listened intently to our flatscreen's built-in speakers from across the room. On the treadmill I would tug at my ear buds, continuously readjusting and popping them out every now and then to give the insides of my ears a break. A few months ago, I got smart, and whenever he wasn't using his headphones, I would grab them and enjoy the total silence of outside influence where I could totally focus on me. So awesome. You know what's even more awesome? Sol Republic contacted me and asked if I would review a pair of their headphones. Even better? They are wireless headphones! OK, my headphones just beat up my husband's headphones.
In case you didn't know, I have four kids, I work in social media, and I write. I also travel and workout. Let me tell you how much I love love love the wireless component. I am totally, well almost totally, hands-free and can move about without wires getting caught up or in my way. That alone won me over. The ability to throw on a comfy pair of headphone that will connect automatically to my phone while I can multi-task is a wonderful invention. It's actually better than sliced bread.
What I loved about the Sol Republic Tracks Air Wireless Headphones:
Look and Style ~ Sleek and stylish, and comes in sophisticated color options. Plus, the headphones come with a handy carrying case to keep everything in place.
Easy Connectivity ~ All I did was turn on my Sol Republic Tracks Air and they automatically started searching to my bluetooth connectivity. Just make sure bluetooth is enabled on your phone or tablet first. Guess what? Got Bluetooth on your TV? Your Sol Republic Tracks Air wireless will connect!
Dual Connectivity ~ Listening to tunes? Watching a movie? Got a call? No problem. Switch easily with a touch of a button on the headphones.
Clear Sound ~ All I can hear is my music or movie. Happy mommy when I need a much needed break, traveling in a crowded airplane, or trying to get work done in between pick-ups at a coffee shop.
Battery Time ~ Love how when I turn on my Sol Republic Tracks Air the first thing it tells me is how many hours of air time I have. 7 hours is the fully charged capacity.
Wireless or Wired ~ This comes in handy more ways than you know. Treadmill, cleaning the house, talking on the phone, sitting at the computer made easier with your comfort level of wireless or not. Also increases battery life when using the wires.
On the Go ~ I wore the headphones in the wireless mode as much as possible. There is definitely a no-slip factor, which I am attributing to the comfy cushion under the headband. I also wore the headphones with the wire on the treadmill one day. Walking, running and hiking at a 10% grade uphill didn't get the headphones to budge. Not sure I would wear them all the time to run in, but it was nice to have the comfortable, oversized earphones instead of the annoying ear buds in my ears for an hour.
What You Should Know:
Adjustment ~ The one thing I do not love about the Sol Republic Tracks Air is the adjustment. Actually I'm kind of torn. On one hand, it is difficult to move the earphones up and down the headband. On the other hand, the headband does not do the adjusting, allowing for smaller heads to have a more concise fit. I was able to place the earphones in the exact right spot for my size, and also for my three year old's size. Not that I would buy him his own pair, but for those moments when you need a set of headphones, and yours are all you got, it's kind of nice that they fit on the littles as well.
Wireless Mic ~ When I say almost hand-free using the wireless option with my iPhone, I still had to hold the phone's mic up to my mouth to speak so the other person could hear me. Thus, not making it as hands-free as I would like. Overall, though the sound quality was great.
Sol Republic offers different lines of headphones, including wired, and earbuds. Check out this very cool collection of collegiate. Great Back to School gift for those headed to college this fall, or even just for the college football fan in your life. Might be a nice way to compromise during football season??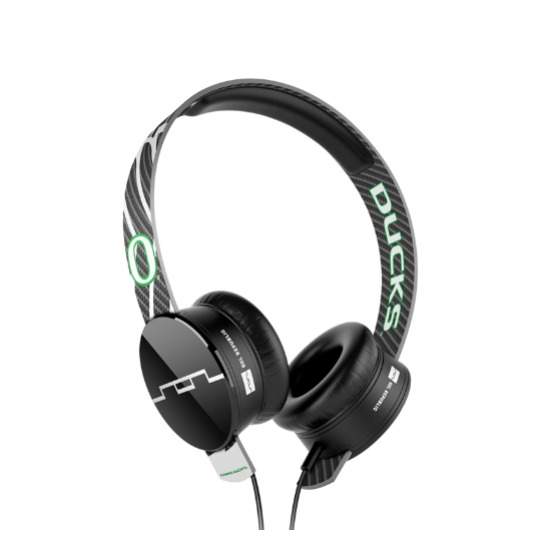 Sol Republic Tracks Wireless Headphones can be purchased at Best Buy.
As a lifestyle blogger I was given a pair of Sol Republic Tracks Wireless Headphones in exchange for a review on my site, RockStarMomLV.com. All thoughts, opinions and words are 100% my own.